Pizza: A Brief Slice of Culinary History
italy has long staked claim to the pizza as we know it. the most popular origin story and the one to arguably put pizza on the culinary map is the story of the margherita — the common tomato, basil and mozzarella combination presented to Margherita of Savoy in Naples in 1861 during a trip to the newly unified southern region of italy. tired of the french haute cuisine she had been eating, the pizza was apparently an instant hit; the margherita, and pizza, was born.
more than 4,000 miles away in america, italians flocking to the promised land for factory jobs and an escape of the poverty and war-ravaged italy were also bringing their style of pizza with them, replicating the thin crust pizzas of their homeland as well as styles like pizza al taglio ("by the slice") roman pizza that is baked in rectangular sheet pans and sold by weight (although don't call it focaccia) or the sicilian-style sfincione, which is where the idea of deep dish originates. by post-war united states, pizza had become a part of the american landscape with regional america taking claim to its culinary new heritage.
pizza is a personal topic. for some it can be akin to politics; a form of pseudo-religion. in chicago, it can depend on what neighborhood you grew up in and how dear you hold the truism of deep-dish, while in New York, the style is more thin-crust, napoletana-style. detroit is known for throwing a nod to the sicilians with their rectangular, sicilian-style shaped pies, while st. louis leans toward a very-thin, cracker-like crust. for one of most simplest dishes in the culinary handbook, pizza can start food wars.
house-made and italian-inspired at tesori trattoria and bar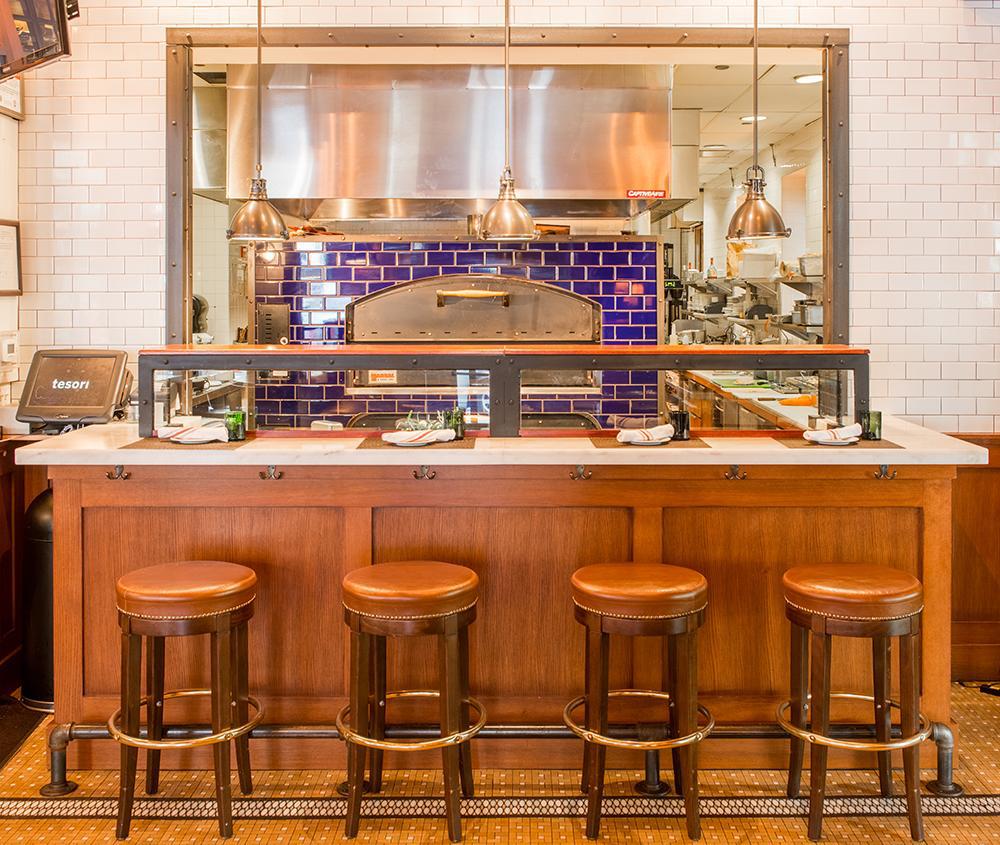 for us at tesori trattoria & bar, pizza holds a special place in our hearts, a type of "treasure" that brings us together over family, friends and community and business partners. it's one of the first things you see when you come through the door — the smell of freshly baked pizza wafting through the air; our chefs meticulously cranking away on leavened dough; the choreography of pizza toppings dashing in the air. then, a quick slide onto the pizza peel and into the double-stacked pizza oven that can hold up to fifty pizzas on any given night. when done, a pizza that has the perfect balance of toasted bubbly crust indicating that the dough was handled with care.
from our specialty dough to our house-made sauce, all our pizzas are crafted with care using quality, italian ingredients like bufala mozzarella and parmigiano reggiano, san marzano tomatoes and baby arugula, house-made spicy lamb or duck sausage and tuscan olive oil. we pay tribute to the classics like the margherita while going outside the box with a wild mushroom bianco pizza topped with cipollini onions, watercress pesto, smoked ricotta or our seasonal fall brussel sprouts pizza topped with house-made 'nduja — a spicy, spreadable pork salume — pecorino romano and calabrian chiles.
creating a signature pizza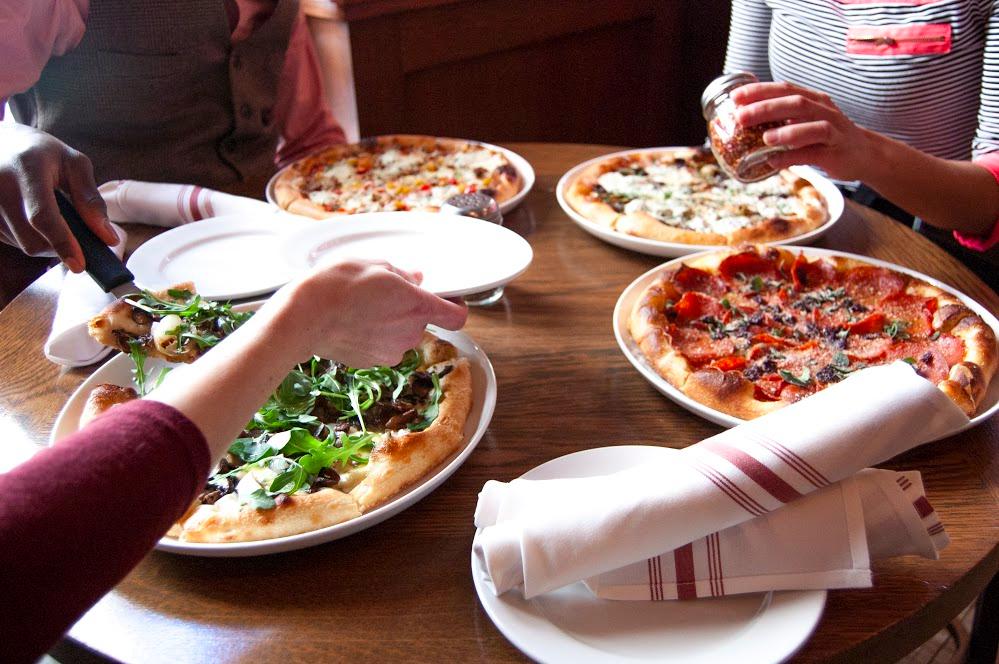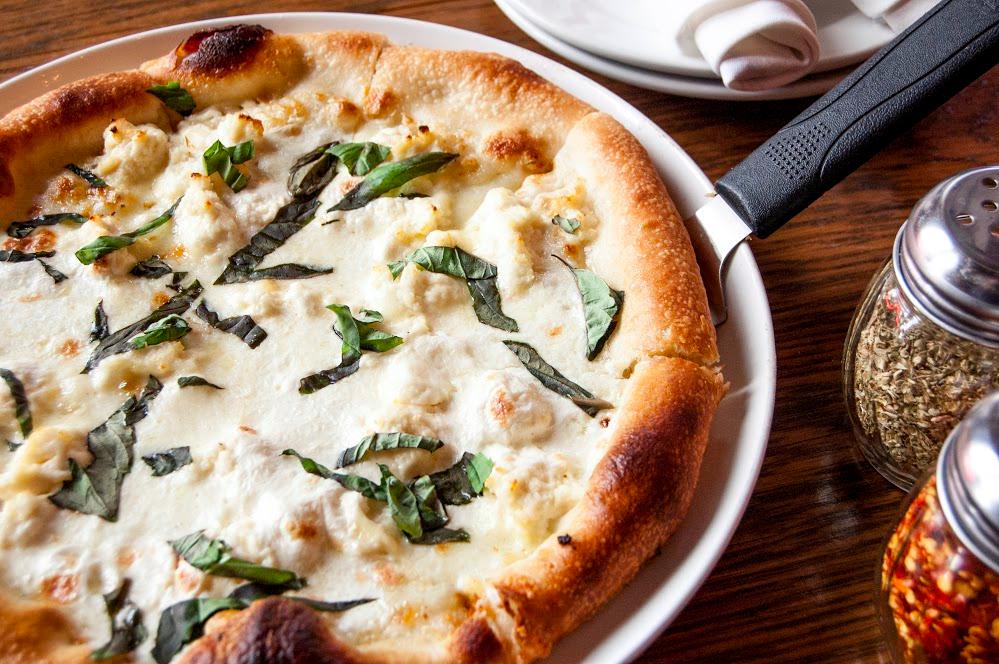 the story of tesori's pizza goes back three years ago when we made the decision to re-concept from long-standing rhapsody to tesori as a rustic-italian trattoria and bar. what kind of pizza would tesori make? it was a serious question.
to start, we went to the the irish-italian chicago roots of founder, Jim Horan, who grew up in elmwood park around classics like jim and pete's, capizzi's and armand's. "having pizza every day wasn't unusual; it was a common pastime in the neighborhood. the recipes were all meticulous. it was real italian; this sense of real tomato sauce cooked the right way in the right ovens. we also knew we wanted a certain style and crust that wouldn't "droop" when you held it up. if it's drooping, then the dough is too thin."
rather than getting into the debate of what style was the best, we decided to head to the experts, which led us to san francisco and a man named tony gemignani — 11-time world pizza champion, proprietor of the International School of Pizza in San Francisco and an official U.S. Ambassador of Neapolitan Pizza by the city of naples, a prestigious title only given to three people in the entire world.
germignani helped with figuring out the concept of pizza we wanted to create — neapolitan-inspired, not too thin, not too thick, perfectly sized for eating solely or sharing. after we had our signature style down, we went to dutch van oostendorp in sardis, mississippi, owner of TriBecca Allie Cafe and also a world pizza champion winner who helped us tweak the dough recipe. steve lieber, a second place pizza world competition helped with the final tweaks. our signature pizza was born. "we didn't get into a singular style, but worked with one that worked for us," says horan. "we're very proud of the process of the dough and our dough recipe."
like we said, pizza can be personal.
visit your local chicago italian restaurant
whether you're a pizza connoisseur or just enjoy the simplicity of a slice of margherita, tesori offers an incredible blend of classic and original pizza recipes. If you're looking for great italian food in chicago, stop by tesori trattoria and bar for a dining experience you won't soon forget. browse our menu online, and let us know if you have any questions about any of our dishes. we look forward to serving you soon.