tesori's guide to chicago craft beer week
from the start of peter hand brewing in the later 19th century to the rise of goose island, to today's landscape of the many microbreweries, nano-breweries, and brewpubs, chicago makes the list as one of the largest beer destinations in the nation. currently, chicago boosts a hefty 175 craft brewers in and around chicago according to local blog, the hop review. that number is only growing.
at tesori, we pride ourselves on our authentic italian dishes and offering our guests a curated selection of craft beer in addition to our handcrafted cocktails and wine list.. when you're not enjoying a delicious meal at our italian restaurant, we encourage you to explore one of the world's most vibrant cultural cities and all it has to offer.
one of chicago's upcoming events is craft beer is week, which kicked off may 18th and runs through the 25th. it will feature collaborations between local craft brewers, as well as new and rare barrels being tapped all week long. there will many things happening to keep you entertained, but here are some of the events happening right in the chicago loop neighborhood:
green spirit collaboration
chef carlos ysaguirre collaborated with the head brewmaster at motor row brewing on our premiere collab, "green spirit," a Pilsner style beer. it's a german grien geist (green spirit) hops with hints of apricot and peaches followed by a smooth crisp finish.
this collaboration marks the first one chef has done with a brewmaster, and will will be available on draught during chicago craft beer week for $6 along with a flight of local craft beers.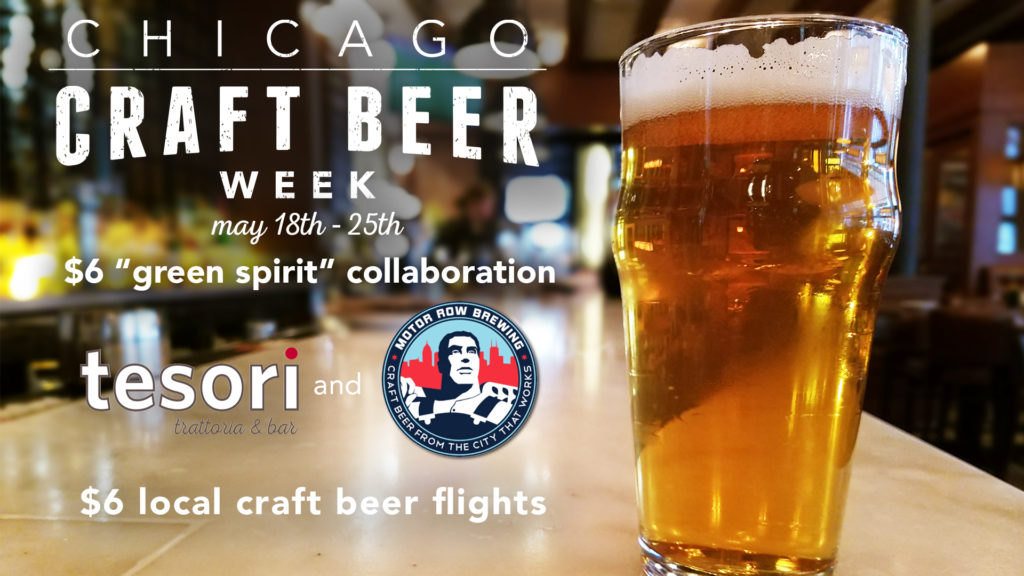 lagunitas beer tasting by chicago marriot magnificent mile's rush bar
on tuesday may 23rd, a complimentary beer tasting will be held from 4 PM – 7 PM. stop by after a long day at the office and enjoy beer from one of chicago's most well-know breweries.
tesori's recommended microbrews/breweries
if you can't get enough craft beer in chicago, there are plenty of other breweries to check out during the summertime outside of craft beer week. below, you'll find some of tesori's favorite stops in town that are perfect for beer enthusiasts everywhere.
moody tongue brewing company: the moody tongue applewood gold, a smoked beer with 5% abv available on tap, pairs beautifully with our pan seared sea scallops or roasted cornish game hen.
forbidden root: tesori proudly serves forbidden root sublime ginger, which resonates well with our grilled wild caught salmon and house spicy lamb sausage pizza
lagunitas: the chicago lagunitas brewery hosts tours everyday, with great food, exclusive beers, and daily live music. at tesori, we serve lagunitas little sumpin' sumptin' and lagunitas brown sugga.
stop by tesori this summer
after a long day of sampling beer around our beautiful city, nothing beats a delicious italian meal. come enjoy classic old-world italian recipes with fresh, authentic ingredients at tesori by making a reservation online. we're located right in the heart of the chicago loop district, near millennium park and the art institute. we look forward to serving you soon.