The Influences & Ingredients of Sicilian Cuisine
sicilian cuisine
at tesori, we fuse authentic Italian recipes and the freshest ingredients with delicious modern flare. from exquisite handmade pastas to our signature pizzas and piatti (entrees), a meal at tesori is an experience in italian cuisine. and while we're always striving to uncover new combinations of flavors and extend the range of modern italian cuisine, we're careful to never forget our old-world italian roots. in our next #tourofitaly, we dove into sicilian regional traditions to explore how this distinctive island made its mark on italian cuisine.
a true melting pot
what we love most about sicilian cuisine is its diversity. while many regions of italy have a very distinctive culinary heritage that shares little with other cultures, sicilian food shows ingredients, flavors, and dishes from every culture that has established itself on the island over the past two millennia – and trust us, that's a long list. sicilian food shares many of the core tenets of broader italian cuisine, but it also shows influences from greek, spanish, arab, north african, and french food culture.
common sicilian ingredients
the warm waters and frequent rains of the mediterranean, combined with the temperate climate of sicily, make the island a perfect place for growing a diverse variety of foods, and that diversity is reflected in the ingredients. fruits like apricots, raisins, citrus, olives, eggplant (yes, it's a fruit), sweet melons, tomatoes, and peppers are common. vegetables like broad beans, maize, and a variety of other produce make frequent appearances. meats are also a staple, with many sicilian dishes featuring ham, beef, or chicken, along with a variety of mediterranean fish like sea bream, tuna, swordfish, and even cuttlefish.
sicilian ingredients also hold the memories of the cultures that have dominated the island over the centuries: the use of spices like nutmeg and clove is a remnant of the arab domination of sicily under the abbasid caliphate during the 10th and 11th centuries, while the frequency of couscous comes from north african cultures. sicily was also initially settled by greek colonists, which explains the frequent use of fish, olives and olive oils, pistachios, and broad beans. we can trace sicilians' fondness for meat dishes to the french norman and german hohenstaufen populations, while a spanish presence introduced a variety of new world ingredients like cocoa, turkey, and a variety of other produce.
typical sicilian dishes
antipasti
starter dishes, commonly called antipasti, are one of the most important parts of sicilian cuisine. caponata, a kind of fried eggplant salad, along with gato de patate, a kind of potato pie stuffed with cheese, are common appetizers.
soups
soup was a common peasant food, and maccu, a sicilian soup made from fava beans, has been a staple of the common diet for millennia. sicilian soups can also vary greatly by season, and may include any variety of vegetables depending on the latest harvest.
pastas
while the history isn't completely agreed-upon, we may have sicily to thank for spaghetti, one of the true hallmarks of italian cuisine – some sources say pasta was worked into the long, thin spaghetti-type noodle for the first time around the 12th century in sicily. sicilian spaghetti is commonly served with sea urchin (spaghetti alla ricci) or sardines (pasta con le sarde), while pasta alla norma, another sicilan staple, is a catanese dish featuring a large tube-shaped noodle and eggplant.
mains
no sicilian meal is complete without secondi, the main course that's typically served after pasta. sicilian main dishes may feature land-based meats like turkey or pig, although fish are also common, as with pesce spada alla ghiotta (swordfish) or couscous al pesce (trapani).
sweets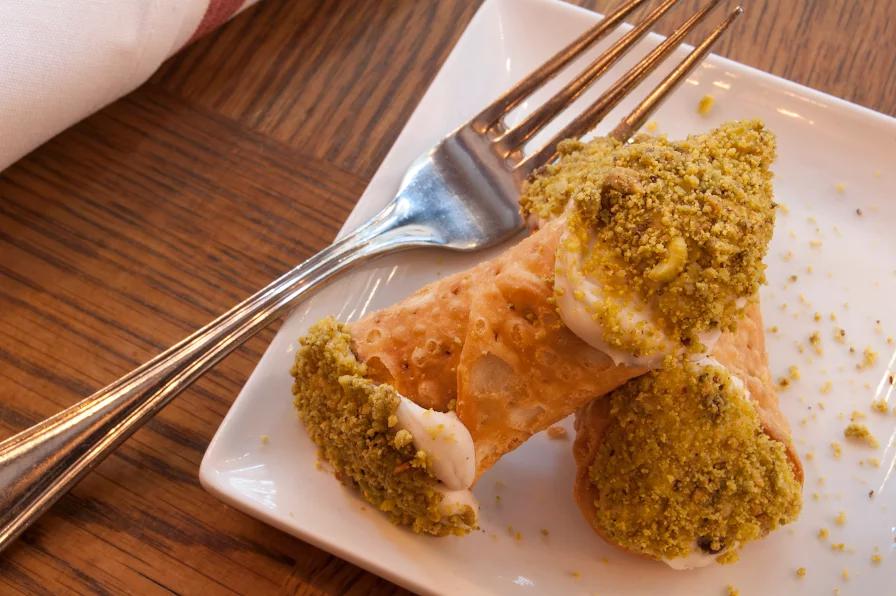 sicilians are famed for their sweets – and at tesori, we take that tradition to heart. one of the most famous sicilian desserts is cannoli, a tube-shaped shell of fried pastry dough filled with a sweet cream. you can get a taste of this for yourself with our very own pistachio cannoli, which also features the greek-influenced ingredient of pistachios.
street food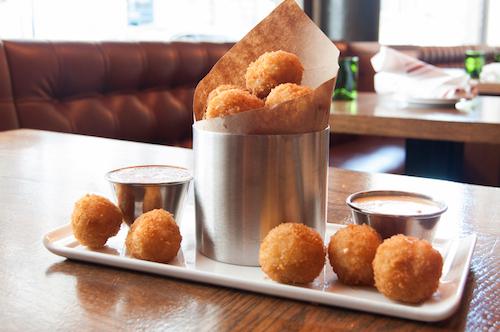 when they're not sitting down to a formal meal, sicilians love their street food. at tesori, we've recreated the classic sicilian dish of arancini – a kind of deep-fried rice croquette – in our artichoke arancini. take one bite and you'll be transported to the fragrant streets of downtown ragusa.
to drink
as with all italian food, no sicilian meal would be complete without a full glass of wine. sicily's soil and climate are ideal for grape growing, particularly on the slopes of mt. etna, and the sicilian winemaking tradition has continued unbroken since the greeks first set up colonies on the island. reds like cerasuolo di vittoria and nero d'avola are common companions to dinner, while dessert wines like marsala are traditionally drunk after dinner.
visit downtown chicago's favorite italian restaurant
ultimately, the only way to get to know sicilian and italian cuisine is to taste it – and our restaurant is the perfect place. immerse yourself in italian culinary culture and enjoy a delightful dish at tesori today.
read similar articles: tuscan cuisine: hearty meals from simple ingredients
Image source: https://upload.wikimedia.org/wikipedia/commons/3/39/Mt_Etna_and_Catania1.jpg