whiskey history and old-fashioned legacy at tesori trattoria and bar
it's 1871, chicago is up in flames from the Great Fire and James Gore of local whiskey brand Chapin & Gore orders barrels of whiskey to be rolled into the lake to protect it from fire and looters, summoning his boston predecessors and their infamous tea campaign.
one hundred years later, this scene could bring a tear to any whiskey lover's eye, but as chicago rose from the fire that year, so did barrels of whiskey that would turn its owners James "Jim" Gore and Gardner Spring Chapin into local legends. campaigns of extreme sometimes do work in your favor.
flash forward to today, and a long lost thread of this part of chicago cultural and mixology history still lives on at tesori trattoria and bar underneath the smell of freshly baked pizza, historic chicago architecture and a spicy interpretation of the old-fashioned.
pre-prohibition whiskey in chicago
at the turn of the 19th century, chicago was gaining status as the world's city: electric streetcars were replacing cart and buggies, the 1893 World's Fair had turned chicago into a main hub of industrial movement and Chapin & Gore, two grocery store men turned whiskey slingers, were leading the charge in chicago's booming mixology scene.
the two met in california during the 1850s and reunited in chicago where they opened a grocery store in what is now chicago's loop. they struck their formative gold when Gore suggested they add a liquor section and shortly after, added their brand of whiskey called 1867 Sour Mash that Gore called "as standard as flour." their 1871 lake stunt, however, would shoot them to local fame, and their empire grew from their branded whiskey to the addition of retail shops and saloons. outside of their staple whiskey, they were also known for their brand of rebellion, defying the 1873 ordinance that all bars had to close by 11:00 pm, risking arrest instead. after Gore's death, Chapin continued on the brand as "the best in the world" and by 1904 business had grown so much that Chapin commissioned the construction of a warehouse and office space at 63 East Adams, where tesori now resides, with a street-level liquor store and saloon named nepeenauk bar. chicago architects Richard Schmidt and Hugh Garden designed the space. by the 1920s, national prohibition would eventually shut down the brand but it was later revived after repeal in 1934 under the production of the National Distillers Corporation of Louisville and subsequently sold to one of the Bardstown distilleries.1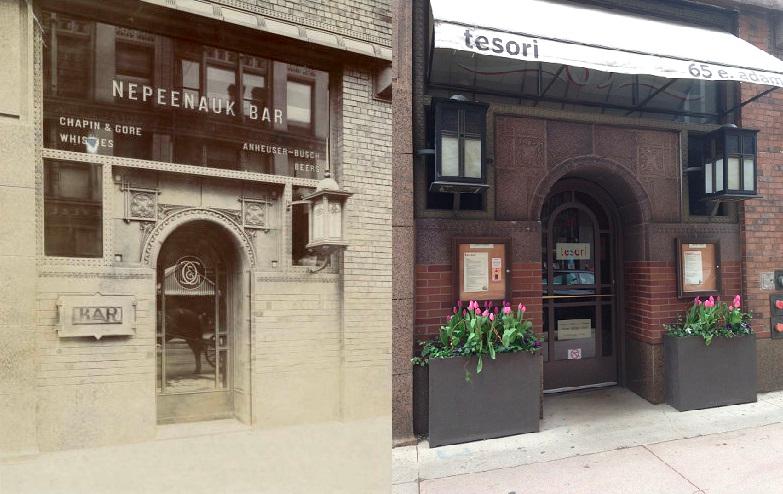 the chicago claim to the old-fashioned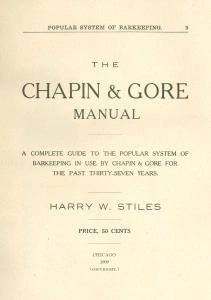 booze was a booming industry in chicago at the height of Chapin & Gore. a survey of the chicago liquor scene found that of the $15.6 million spent on liquor, $9.6 million went to buying whiskey.2 this explosion of the dark spirit led to the proliferation of the popular old-fashioned predecessor called the whiskey cocktail — a mixture of whiskey, sugar, bitters and water shaken and strained into a fancy red-wine glass. an 1898 article in the New York World also reports on women drinking on the sly by asking for "tea in the chicago style," which gave them a whiskey cocktail.2
with the popularity of the whiskey cocktail, however, came interpretation by newer mixologists and the influence of imports from europe, notably vermouth, with original recipes varying to include absinthe, curacao and maraschino. purists called for a return to the basics of "old-fashioned" cocktails and the first meeting of the newly formed International Association of Bartenders convened in chicago in 1893 to establish a nationwide standard for cocktail preparation; on the list, the venerable (and arguably, officially named) old-fashioned.
while pinpointing the start of the official old-fashioned is a hard task, it is the publication of one bartender, Theodore Proulx, who worked at Chapin & Gore that leads to the claim that the old-fashioned may not only have started in chicago, but likely at Chapin & Gore. his 1888 publication The Bartender's Manual written when he tended bar at Chapin & Gore is the first known appearance of the cocktail by that name.2 (Chapin & Gore separately published their own manual so Proulx's manual is not viewed as an official Chapin & Gore publication.) further supporting the chicago legacy of the old-fashioned is a 1899 cocktail book by chicago bartender John Applegreen who not only had an old-fashioned listed in his book but also an entire section dedicated to the cocktail.
from pre-prohibition saloon to downtown italian restaurant
the history of this burgeoning and exciting era remains in only a few artifacts and lore, but today, tesori trattoria and bar honors the Chapin & Gore legacy and our old-fashioned history. on our menu you can find six unique old-fashioneds to choose from ranging from the classic to the wisconsin (an old-fashioned made with brandy) to our signature barrels in the lake, a liquid homage to the call of the late Jim Gore to roll good whiskey into water. (although we promise it tastes much, much better.)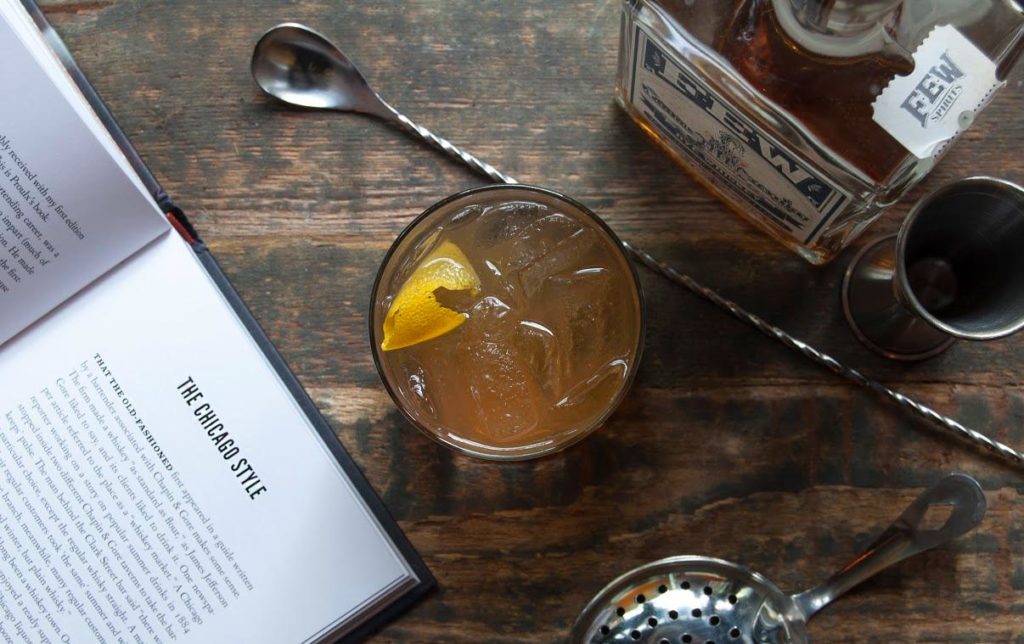 the original old-fashioned cocktail — method #2
adapted from The Bartender's Manual, 1888 by Robert Simonson in his book The Old-Fashioned: The Story of the World's First Classic Cocktail
1 tsp. sugar
1 bar spoon of water
angostura bitters
bar spoon of simple syrup
2 oz. of whiskey
1 large ice cube
dissolve a teaspoon of sugar with a barspoon of water in an old-fashioned glass. add bitters and simple syrup, twist a lemon peel over mixture and drop in glass. add whiskey and ice cube. stir until chilled.
trivia
it was common practice at some bars that an old-fashioned drinker was allowed to pour the whiskey from the bottle to glass himself, a practice common with an order of straight whiskey. the old-fashioned pre-prohibition also carried a tradition of being served with a silver spoon for scooping up the fruit or scraping the bottom sugar.
enjoy traditional cocktails at tesori
whether you're a whiskey enthusiast, or want to taste the old-fashioned legacy for the first time, we invite you to join us at tesori. our chicago italian restaurant offers a comfortable environment for you to grab a drink with friends or relax after a long day at millennium park. dine at tesori trattoria and bar, and savor the taste of delicious italian cuisine.
read similar articles: cuisine of veneto: traditional dishes with distinct flavors
sources:
Sullivan, Jack. "Chapin & Gore: Kings of the Chicago Saloon." Weblog post. Those Pre-Prohibition Whiskey Men. July 9, 2013.
Simonson, Robert. The Old-Fashioned: The Story of the World's First Classic Cocktail, with Recipes and Lore. May 13, 2014.